Alice Herz-Sommer lived longer than most people ever will and throughout that time lived a full and varied life. She was the oldest living pianist and Holocaust survivor until her death in February of 2014 at the age of 110. In this short, her inner beauty shines from her wrinkled skin as she shares her wisdom – watch it
"I knew that even in this very difficult situation, there are beautiful moments. There doesn't exist anything in our world only bad. Even the bad is beautiful." – Alice Herz-Sommer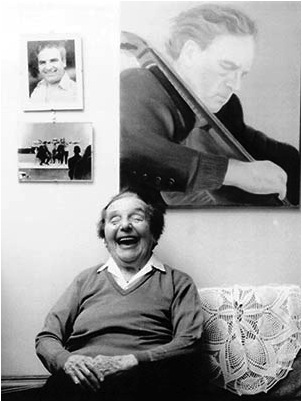 Inspirational, pianist, Holocaust Survivor, Alice Herz-Sommer – 109 years old
http://theladyinnumber6.com https://www.facebook.com/theladyinnumbersix?fref=ts The Lady in Number 6 is one of the most inspirational stories ever told. 109 year old, Alice Herz Sommer, the world's oldest pianist and oldest holocaust survivor, shares her views on how to live a long happy life. She discusses the vital importance of music, laughter and having an optimistic outlook on life.
The full-length documentary entitled
The Lady in Number 6
about her story can be found
here
.
You can learn more about this extraordinary woman at the following links:
Get the DVD here and support our site.
Share your thoughts in the comments. If you liked this post, please share it with your friends.
Want to see more inspiring role-models? Check out our People page here.
You can also follow Conscious Life Space on Instagram, Facebook, Twitter and Pinterest and share effectual media with your friends and family. Want to keep up to date with our latest articles and information? Keep in touch when you sign-up for our monthly newsletter and periodic announcements and offers.
---
Amy Adams is a fine artist, gardener, sometime programmer and the editor of Conscious Life Space. You can find her on her website here.
If you'd like to support Conscious Life Space and our mission, please consider making a donation. Help us provide the best information and solutions when you support us. Your support helps!